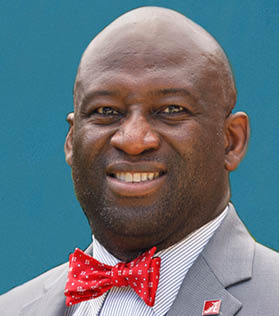 Myron L. Pope
Vice President for Student Life, University of Alabama
Myron L. Pope brings his rich history of engagement with student success to his role at the University of Alabama (UA). Pope returned full circle in April 2020 after launching his career at UA, earning his BA, MA, and ED in History/English and Higher Education Administration.
Prior to returning to UA, Dr. Pope served in multiple roles in Oklahoma focused on student success, increasing retention rates, and improving diversity and inclusion, including vice presidential roles at the University of Central Oklahoma; chief of strategic engagement for the Oklahoma Department of Human Services; and faculty appointments at the University of Oklahoma and the University of Central Oklahoma. His background also includes positions in the community college system of Alabama.
He has conducted research and written published articles in scholarly journals on student success, diversity, retention and globalization. He has given more than 100 presentations nationally and internationally. Pope has served as a consultant/evaluator with the Higher Learning Commission (HLC) and has worked with local, state and national organizations and initiatives related to education, families and public service.
Our easy on-boarding process will get you the answers you need quickly and efficiently. Simply click the "Let's Go" button to get started.