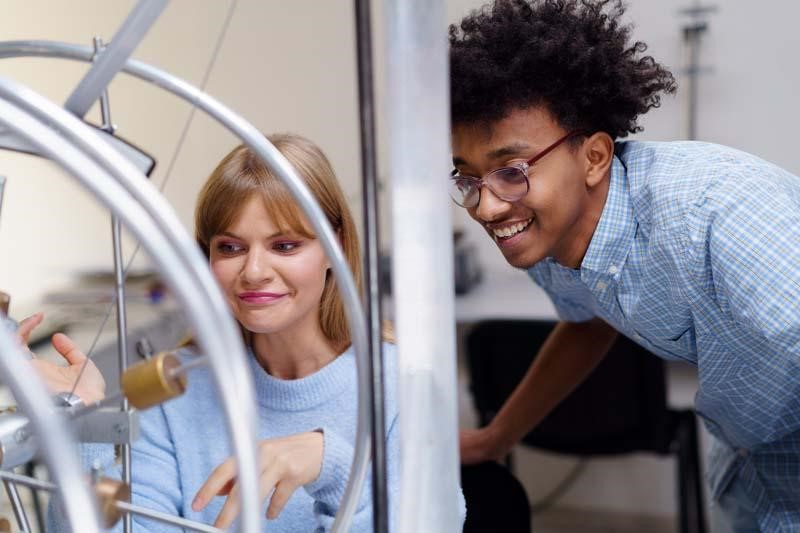 Ascendium Education Group, one of the nation's leading postsecondary education and workforce training philanthropies, has awarded a third grant to the Institute for Evidence-Based Change (IEBC) for "Caring Campus."
This new two-year grant (2023-2025 with $847,521) supports a partnership between IEBC and the Alamo Colleges District in Texas, working to address early student attrition. Why do so many students leave college early?
Ascendium funding will allow IEBC to engage faculty and staff to examine institutional data and student experiences to identify campus-level practices that may help retain students at risk of leaving prior to colleges' official enrollment count.
"This specific project at the Alamo Colleges District will focus in on a critical period for our students: their first two weeks as new students at the college," said Rob Johnstone, Ph.D., Founder & President of the National Center for Inquiry & Improvement. "The data is clear on just how many students we lose during these first two weeks, and it's significant not only from a mission-driven basis but also to help colleges regain enrollment that has been declining in the past few years."
"Education is the key to economic and social mobility, and by removing barriers to completion and unlocking strategies for student retention, we can change the trajectory of students' lives," said Dr. Mike Flores, Alamo Colleges District Chancellor. "We are grateful to Ascendium for providing this generous and strategic investment that allows us to impact the communities we serve and provide a model for stronger student retention strategies across higher education."
The five colleges of the Alamo Colleges District are:
Northeast Lakeview College (Northeast Bexar County)
Northwest Vista College (Northwest San Antonio)
Palo Alto College (South San Antonio)
St. Philip's College (East and Southwest)
San Antonio College (Midtown)
This third grant builds on IEBC's previous Ascendium-supported efforts. The initial grant in 2019 enabled our work with college staff to increase student retention by cultivating a Caring Campus environment.
The second grant in 2021 enabled IEBC to focus on faculty and their role in increasing student success, as well as supporting IEBC's work with the Community College Research Center (CCRC) to better understand how the initiative works to change college culture and improve student outcomes.
The objective of Caring Campus is to increase student retention and success in community colleges by creating and cultivating Caring Campus environments through intentional behaviors by faculty and staff to improve students' sense of caring and connectedness to the college.
"We believe there are common behaviors that better connect students with staff and faculty," said IEBC President/CEO Dr. Brad Phillips. "It's a means to an end. The means are behaviors – the end is student success.
"We want to learn whether the problems we are trying to address are addressed through student connectedness. The research is there. We are trying to apply lessons from the research on student connectedness and success."
Caring Campus Enhances Existing Student Success Efforts
Caring Campus explores how outreach efforts on behalf of staff and faculty can make a significant positive impact on student success.
Ascendium funding will allow IEBC to engage faculty and staff to examine institutional data and student experiences to identify campus-level practices that may help retain students at risk of leaving prior to colleges conducting an official enrollment count.
Previous research has documented that students leave college because they do not feel connected to the institution. Caring Campus recognizes and leverages the value of connectedness to increase the likelihood that students will continue towards, and succeed in attaining, their educational goals.
Faculty and staff interaction with students can set the stage for successful enrollment, persistence, and completion. It is particularly important for students from historically underserved populations and students less familiar with college to feel welcome and that they belong in college.
About the Alamo Colleges District
At the Alamo Colleges District, high-quality education and affordable costs provide exceptional value to students and alumni who are major contributors to the economy and culture of the community.
About Ascendium
Ascendium Education Group is a 501(c)(3) nonprofit organization committed to helping people reach the education and career goals that matter to them. Ascendium invests in initiatives designed to increase the number of students from low-income backgrounds who complete postsecondary degrees, certificates and workforce training programs, with an emphasis on first-generation students, incarcerated adults, rural community members, students of color and veterans. Ascendium's work identifies, validates and expands best practices to promote large-scale change at the institutional, system and state levels, with the intention of elevating opportunity for all. For more information, visit https://www.ascendiumphilanthropy.org.
About the Institute for Evidence-Based Change (IEBC)
The Institute for Evidence-Based Change is a nationally recognized nonprofit organization dedicated to helping education stakeholders – community colleges, universities, K-12 school systems, employers, and others – use evidence-based data, collaboration, and coaching to make informed decisions and craft solutions that improve practice and dramatically increase student success through our innovative approach. Learn more about IEBC at www.iebcnow.org.